What It Takes
This summer was another wonderful opportunity to witness a group of dedicated and amazing young adults working to complete the efforts started by another amazing group three years ago.  By the end of the 2015 summer season the entire Rapidan River had been assessed to determine bank characteristics, buffer quality, erosion, tree canopy and more.  In addition, a thorough cleaning of the entire river was completed.  This accomplishment was only possible with the cooperation and partnership of many individuals.
We invited all our supporters to celebrate this combined achievement at The Arts Center In Orange on the evening of September 17.   A special presentation of an autographed bowling ball (removed from the river by a Sweeper) was made to the Germanna Foundation for their willingness to assist on numerous occasions.  You will find the slide show presented at this event below.  You'll notice at the end of the presentation that there are 6 pages of names of individuals that have supported the program over the last three years -THANK YOU!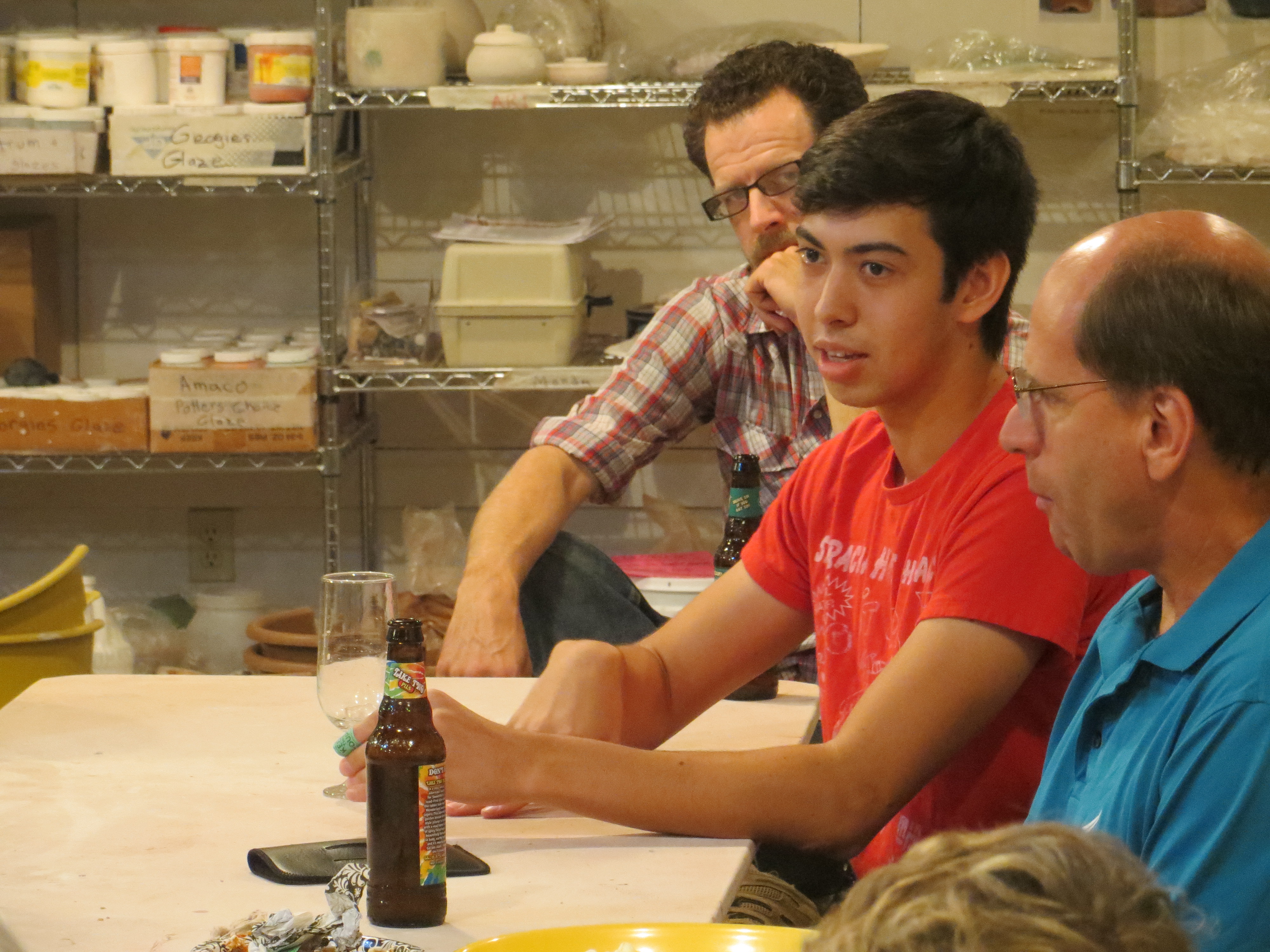 StreamSweeper Mac Klackle (center) speaking about his experience during summer 2015 at year end celebration at The Arts Center In Orange pictured with watershed supporters.  (Photo courtesy of Jeff Poole of The Orange County Review)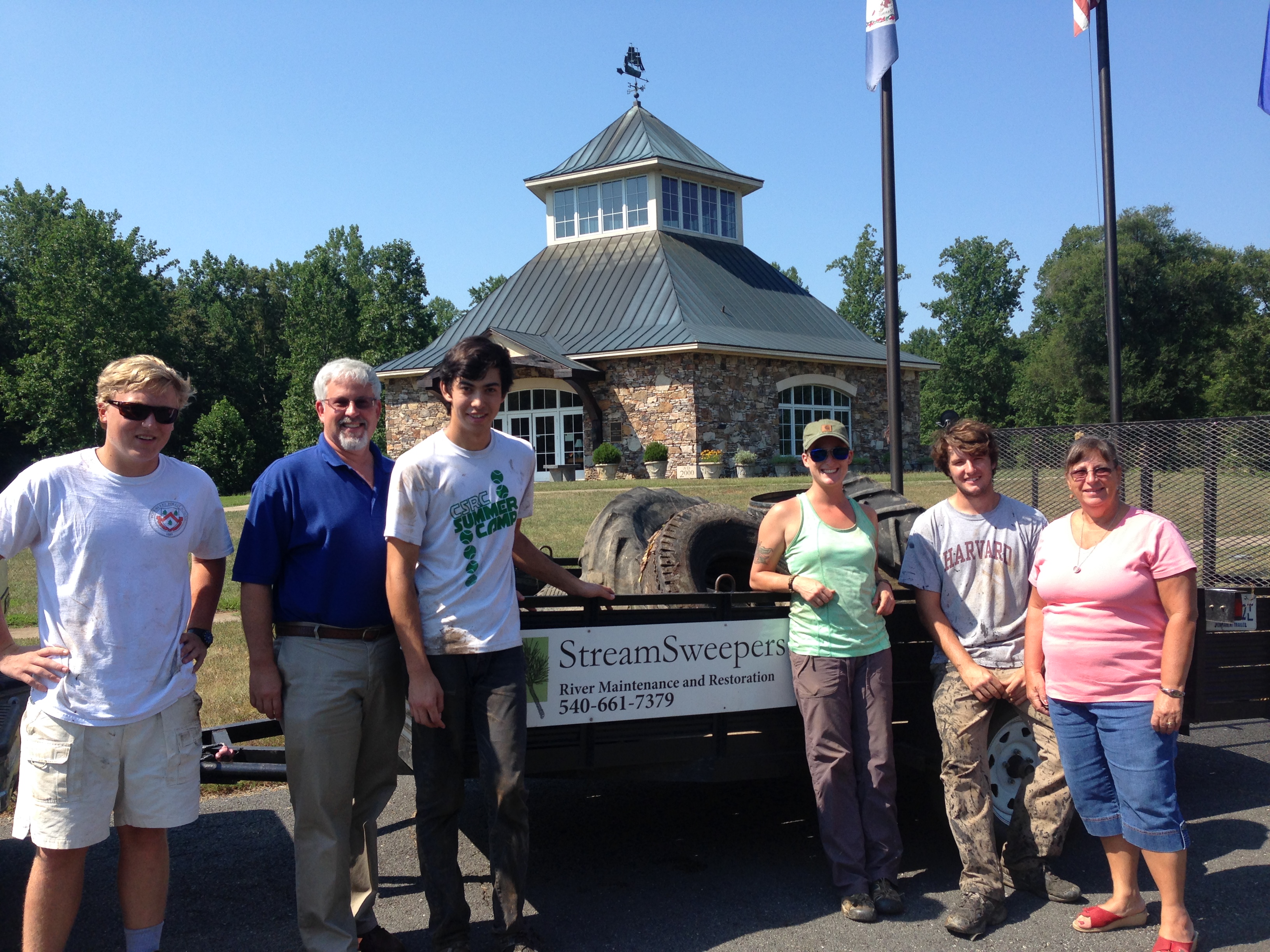 Staff of Germanna Foundation and StreamSweepers 2015 Crew, Locust Grove, VA
Below is a list of the landowners who granted access to their property this summer as well as a list of a folks who lent exceptional program support this year.
Landowners – RA Lillard, Rodney Lillard, John Whiteside, CR Tanner, Bruce and Ann Bowman, Todd Sansom, Doug and Bonnie Coffey, Laneway Farms, Taylor White, Barbara Miller, Beth Seale, Randy Merrick, Adrianne Foshay, Belair Farms, Joan Ducker, Ronnie Sexton, Germanna Foundation, Wilderness Shores, Rapidan Service Authority and Friends of the Rappahannock
Beth Seale, American Canoe Association (ACA) Instructor and Owner of Rapidan River Kayak Company
Dr. Randy Merrick, Merrick Family Medicine and Laser Therapy
Ruth Douglas, Master Naturalist and member of Virginia Native Plant Society and Blue Ridge PRISM
John James, ASLA – John James Landscape Architect 
Program Supporters – Coleman Andrews responded to our mid-summer plea for boats with the donation of "Proud Mary".  Rhonda from the Shelby Kwik Mart in Rochelle, VA (helped us out with a gas emergency). The Houck's of Belair Farm (which became a second home for trash removal operations).  Baker's Store.  Rod and Colin Bowers who helped our fleet grow. Thunder Lane of Culpeper for a boat donation.  And we are very grateful for the mid-summer infusion of additional program dollars by an anonymous donor to purchase boats.  We thank all of you who have supported us this season and over the past three years!
Photos of two new additions to the StreamSweepers fleet.