2022 Cleanup – Phase IV
In April, StreamSweepers kicked off our fourth season assessing and cleaning the next stretch of the Clinch River in Southwest Virginia. Our work will be easier this season due to a generous donation of a 3/4 ton Ford F-350 from the Tennessee Valley Authority. Project manager, Maddie Gordon, and our two on-water managers, Wilder Meade and Andy Satterwhite, accepted the keys to the truck from Shannon O'Quinn, Water Resource Manager, and Bryant Artigas, Fleet Manager for TVA.  This truck will be able to carry twice the load of our other trucks! All of us at the American Climate Partners and our StreamSweepers program appreciate this gift very much. Thank you so much, TVA!!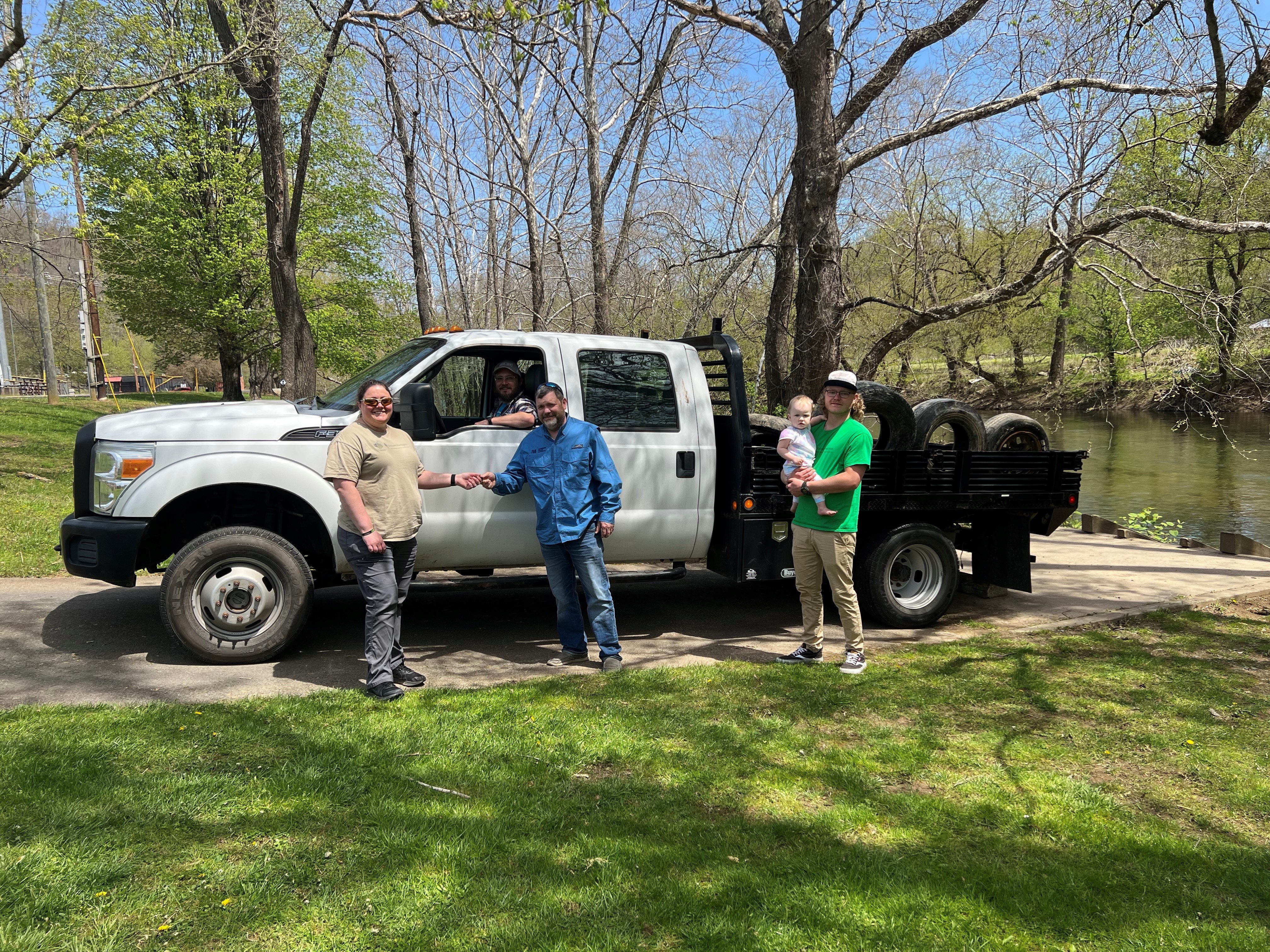 2021 Cleanup – Phase III
With additional funding and several new partnerships in 2021, we were able to hire a second crew of Sweepers and extend the season through mid-October. The added crew and extended season enabled us to increase the number of river miles cleaned, which was particularly significant since we had to re-assess and clean portions of the river cleaned in 2020 due to major flooding earlier in the year. Sweepers cleaned over 148 miles of the Clinch and removed 1,677 tires and over 50,000 lbs of trash in 2021!
2020 Cleanup – Phase II
Despite COVID-19 related setbacks, 2020 proved to be our best year yet!
Tires: 1077
Trash: 22190 lbs
Miles 98.15
We had an immensely successful year in 2021 with our AmeriCorps partners and local SWVA support.
2019 Cleanup – Phase I
2019 was the first of three seasons of the Clinch river cleanup to comprehensively remove large and small junk from the riverbed and banks.
12 Sweepers were employed from St. Paul, Coeburn, Wise, Lebanon, and surrounding.
They cleaned about 13.2 miles from the Old Castlewood boat launch to the Clinch's confluence with the Guest River just above the Millers Yard boat Launch.
Sweepers removed 1006 tires (which weigh approximately 17.6 tons) and 14,260 lbs (7.13 tons) of other trash including appliances and electronics
2017/2018 Assessments
Sweepers used GPS units to mark health indicators along 60 miles of river, as standardized by the USDA such as the height and geometry of the bank, the percentage of river covered by a canopy, and the composition of the river bed, to name a few. Click here to learn about our specific assessment protocol. Totals for these variables are shown as red, yellow, and green to indicate low, moderate, and high resiliency.
This map shows river health defined as the ability to maintain its structure (organization) and function (vigor) over time in the face of external stress (resilience). (An example of an external stress would be flooding.)
Partners
StreamSweepers is thrilled to be working in partnership with the Richard and Leslie Gilliam Foundation, Dominion Energy, TVA, Upper Tennessee River Roundtable, Keep SWVA Beautiful, the Nature Conservancy, VDGIF, the Clinch River Valley Initiative, the Russell County Board of Supervisors, the Town of St. Paul and the many local businesses and organizations who are involved in this multi-year effort to assess and clean up ~60 miles of river flowing through Russell County, VA.
Any other parties wishing to contribute either staff, funds, or equipment should contact Maddie Gordon, Clinch River Project Manager.