Here is Where our Hope for StreamSweepers 2016 Begins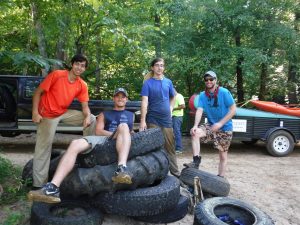 In 2015 StreamSweepers finished the promise begun 3 years ago to train and employ dozens of local young adults to sweep up garbage from the historic Rapidan River – all the way from Shenandoah National Park to Fredericksburg. This unprecedented achievement is the first time a corps of local high school and college students has comprehensively cleaned and assessed the health of an entire river valley in Virginia history.  These Sweepers are paid and insured employees and not volunteers . Their salaries are paid by "customers" or riverside landowners and donors that care about meaningful young adult employment opportunities and their local rivers.
As we prepare to store our boats and equipment for winter, we've dreamed of what might lie ahead for the 2016 season.  After years of river work, we now know that ongoing maintenance is needed because as unbelievable as it sounds, people continue to use our rivers as a dump.  Therefore, we propose to transition to river maintenance, with Sweepers completing "light cleaning" of the 100 miles of both rivers in their entirety– in just one season! This is in contrast to the "deep cleaning" of past years, where we were only able to finish 40 miles in a season.  Maintenance is also needed because we now know that tires and other trash leach harmful chemicals and our rivers are drinking water sources for thousands of Virginians. We also hope to tackle the beautiful Hughes River (a Virginia Scenic River) from its origins at Old Rag Mountain in Rappahannock County to its confluence with the Hazel River in Culpeper County.
Please consider supporting our river restoration job corps program by making a tax deductible donation (online link below or by check).   StreamSweepers is a program of the American Climate Partners, a 501 c-3 charitable organization in Orange, Virginia. And finally, we can never say enough how grateful we are to all the Supporters from past years that make this work possible.