Dear Friend of the American Climate Partners,
Since 2012, I have sent out one message every year to all our constituents in an effort to continue to engage you: our customers, clients, donors, partners, and friends. This message is an update on how we are refining our local programming in response to the 2021 United Nations Climate Conference in Glasgow (COP26).
According to Project Drawdown, the largest carbon land sink (a sink is a place where we can absorb and store atmospheric carbon) available to humanity is "Food, Agriculture, and Land Use". Virginia grassland landowners can do their part by increasing plant biodiversity and managing their soil microbes. These microbes store carbon in their bodies and in soil structures for decades and perhaps longer. Industrial management of our grasslands reduces the capacity to store carbon. We are synergizing the flywheels of every one of our programs in a push to store more carbon now in mid-Atlantic grasslands. This effort is something that every homeowner, rural landowner, and farmer can join.
Last year, Directors and Staff at the Center launched a strategic planning and public relations planning process. Through months of sometimes difficult self-reflection, we have discovered that all the Center's programs and projects are built on a foundation of the following four pillars:
Pillar 1: Job Creation
Our StreamSweepers program has created 40 jobs in Southwest Virginia since 2019, removing nearly 4,000 tires and 100,000 lbs. of trash, on 326 miles of riverbank in the Clinch River system. This year we employed 15 local young adults, including Southwest Virginia Sweeper and superstar Wilder Meade, from the emerging outdoors recreational mecca of St. Paul, Virginia. Wilder returned for his third season and stepped up into a senior role as OnWater Manager, leading our first year of expanded season, cold-weather river work. He also represented the Center at the Upper Tennessee River Roundtable conference.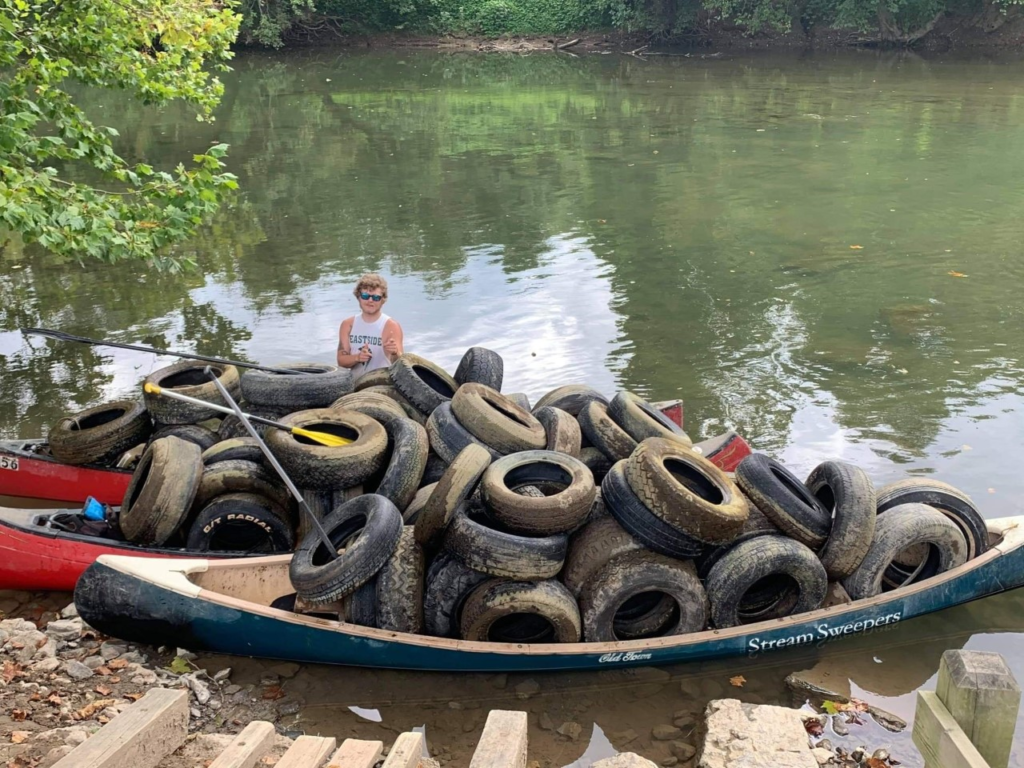 StreamSweepers has been able to expand and continues to depend on donor funds from the generous support of individuals and foundations in the mid-Atlantic region. As the largest river cleanup project on the East Coast, the Clinch River Project has grown from one crew working for three months to two crews working for seven months each year. We are grateful for our increase in donor contributions and request that you consider supporting the pace of growth and impact of StreamSweepers.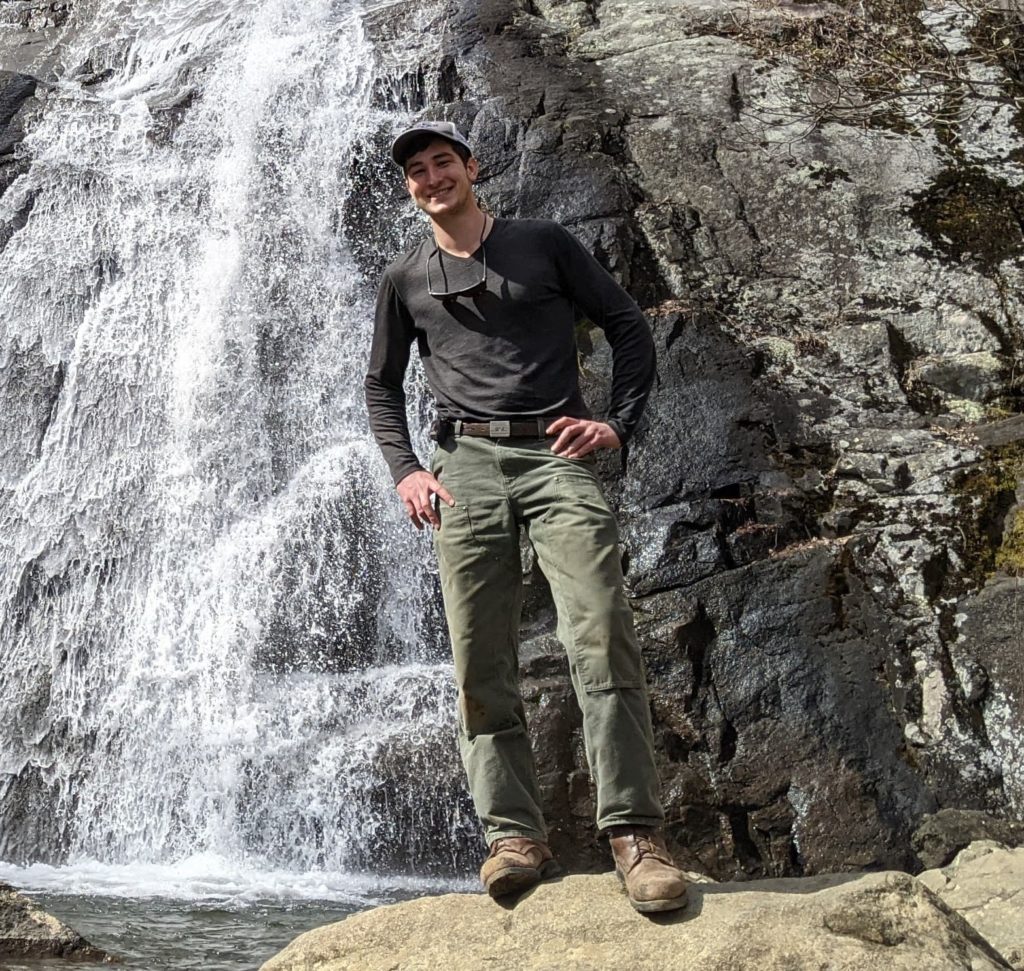 In addition, more jobs were created in Central Virginia through our soil health and habitat contracting services. Dan Paparella, an Environmental Science Graduate (UMass 2019), moved south from Pennsylvania to join the Center as a full-time Field Manager for SoilKeepers. His unique and impressive combination of gifts in the areas of agricultural and mechanical arts and natural science has rapidly and significantly increased growth of our regenerative landscape management products and services. One of the cool things that Dan has started this year is the brewing of our own local compost tea that we are adding to our Biogenicals nutrient sprays.
Another stellar new hire is Amber Jenkins, an Orange County High School and 2021 ODU Environmental Health graduate. She is helping us implement "social bridging" among adjoining landowners to "quilt" new pollinator and grassland bird habitat through our Virginia Wildlife Habitat Cooperative (VWHC), a goal we discussed in last year's Annual Fund Letter.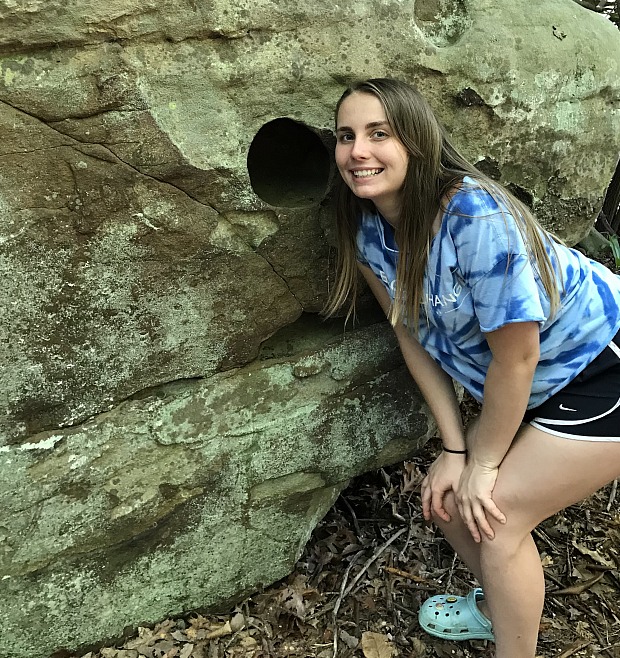 Pillar 2: Grasslands Biodiversity
The impressive pace and scope of growth in 2021 of the membership in the VWHC has been such that that we have begun quail and pollinator habitat quilting programs to stitch together parcels in four Central Virginia locations; Gordonsville, Rapidan, Somerset, and Culpeper.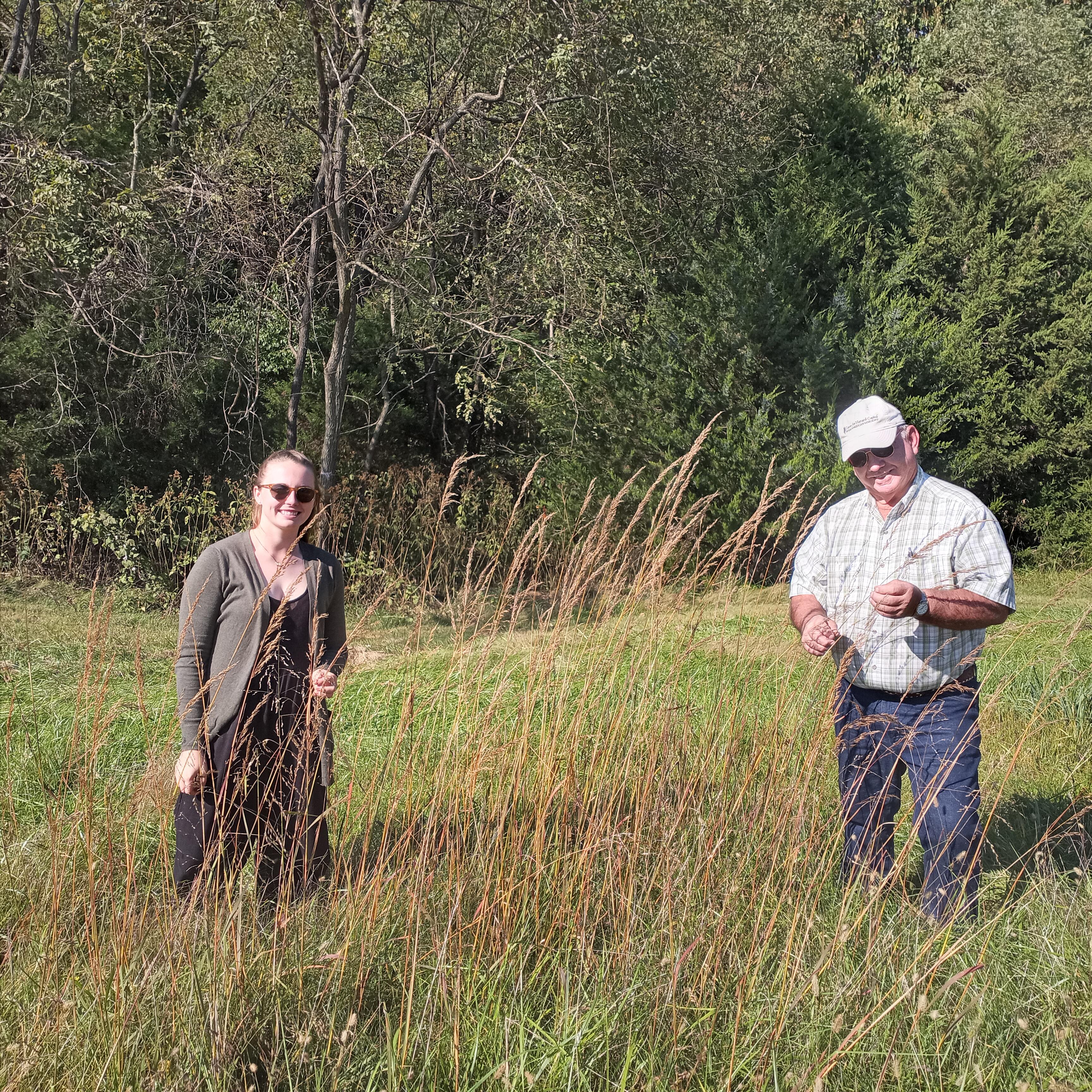 VWHC provides specialized habitat establishment and maintenance equipment to members and works with surgical precision to provide custom habitat planning services. The image here shows Farm Manager Myron Neuhauser and Amber Jenkins in front of a former cool season pasture where Indian Grass and Little Bluestem and some wildflowers sprang up immediately after burning, without the application of any additional seed.
The VWHC, like StreamSweepers, has no income generating capacity and relies on membership fees and donations to support our habitat quilting and landowner coordination services. While the Center does subsidize VWHC activities through income from our SoilKeepers landscape contracting fees, these subsidies are far from adequate to support our Staff's work. A donation to the VWHC is a highly leveraged gift since it is matched internally by the Center's income.
Pillar 3: River Biodiversity
Our river biodiversity focus is on the creation of new fish passage at Rapidan Mill Dam and on floodplain restoration to Piedmont savanna including native trees such as Hackberry and native warm season grasses such as Switchgrass, as shown below in alternating savanna and maintenance rows in the Upper Rapidan Watershed in early Summer. The second image shows 2021 Black Walnut and Sycamore trees from tree seed planted in early Fall 2020 in the savanna strips.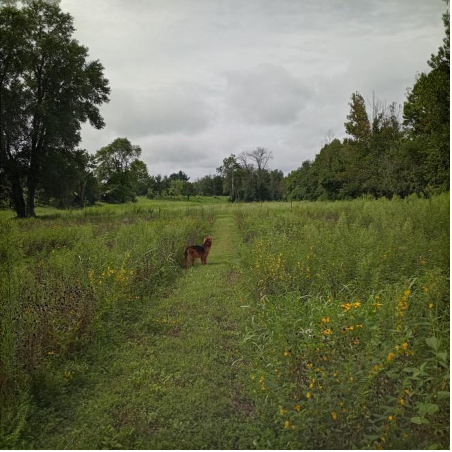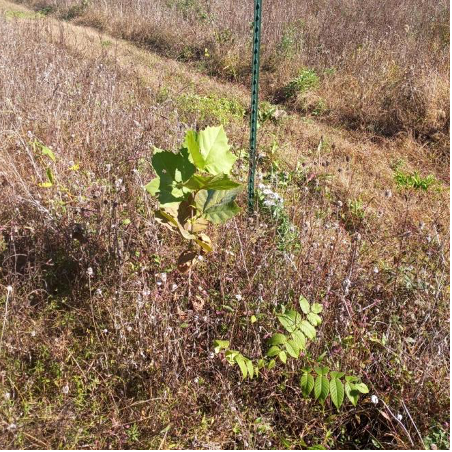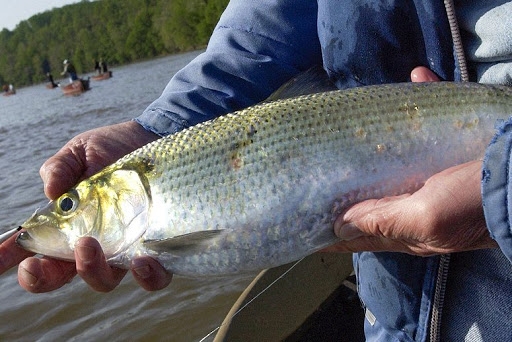 The Rapidan Institute was created to use biodiversity to improve the resiliency of East Coast rivers and its flagship project is the Rapidan Fish Passage Project (RFPP). The vision of the RFPP is safe passage for shad (our American salmon), rockfish, herring, and eels to 500 miles of lost habitat above Rapidan Mill.
Because of the Center's entrepreneurial roots, we often pursue income-generating projects to prove that sustainable ecosystem work can contribute to the local economy. Therefore, last year we formed a business partnership with Ecotone, Inc. to create a Rapidan Mill Dam Mitigation Bank, using credits generated through the creation of anadromous fish passage and habitat restoration. This strategy if successful could provide the Center a multi-year income. A host of environmental and financial factors are involved and are currently being reviewed by an Interagency Review Team convened by the U.S. Army Corps of Engineers office in Norfolk, Virginia.
Until the path forward is approved, we have ongoing Staff costs to meet. Earlier this year the Virginia Department of Wildlife Resources provided $10,000 to help but that does not come close to meeting our expenses in this project, including the $100,000 needed to finalize purchase of the Dam.
The Rapidan Institute is the Center's newest program. Much of the work of the Institute involves applied research on strategies to use biodiversity to enhance river resilience. Certainly, the concept of the importance of biodiversity is not new, however the use of biodiversity as a restoration strategy is new and there are few grantors that we can turn to for support at this point; private donor support in 2022 is critical to ensure that this strategic insight takes root and thrives in the coming years.
Pillar 4: Carbon Storage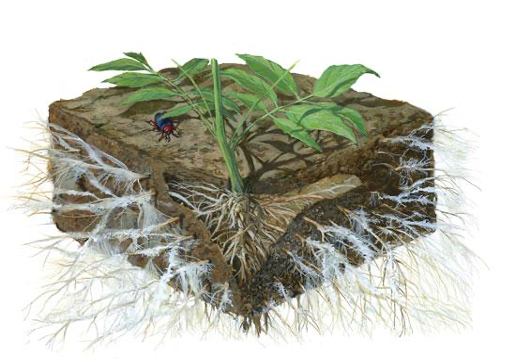 ACP works to encourage the absorption of atmospheric carbon (bad) into the ground (good) through creation of new riparian wetlands, through the healing of soil microbes, and through the growth of native warm season grasslands, including wildflowers and legumes. Our landscape contracting program, SoilKeepers, has for years been blending custom solutions of microbes and other liquid nutrients to create a proprietary cocktail – which we call "Biogenicals" – to increase the uptake of carbon from the air. Fungal structures called mycelia are a backbone of this soil food web system (shown in white).
After many years of experience and experimentation, we can now predict how much uptake we can stimulate and how long it will take. This strategy replaces the role of synthetic fertilizers often used on hayfields, pastures, and lawns. A priority for Soilkeepers in 2022 is to use the massive acreage of Central Virginia grasslands as a carbon sink and to provide one local climate health solution that also has many other co-benefits.
To restore wetlands (very efficient carbon capture), and ultimately, pre-European like populations of Cheseapeake Bay biodiversity, rivers and streams need to be reconnected to their floodplains so that during storms the river fans out to reduce energy and diminish downstream erosion. How to affordably do this when the streambed has significantly lowered? We must recruit nature to help us and for that we need more of the animal that we wiped out over a century ago throughout North America – the North American Beaver (Castor Canadensis) – at least in the small tributaries of our major streams and rivers. To do this we will need to learn to manage Beaver, like we do other wildlife, understanding that there are places where they can flourish and others where they do more harm than good.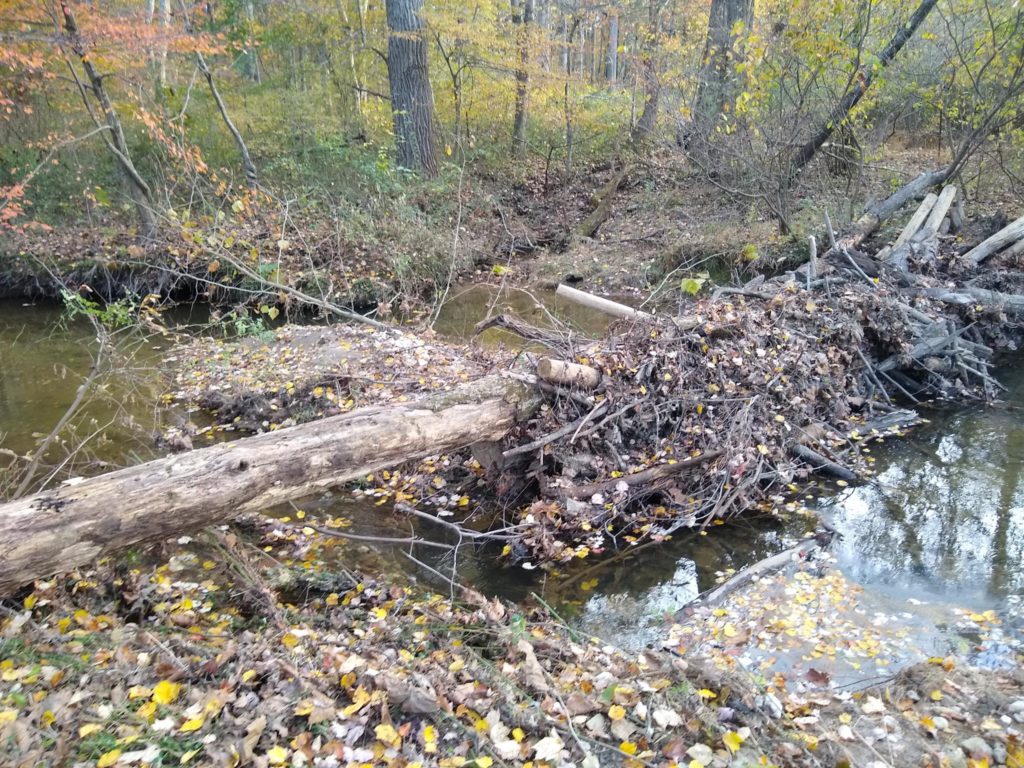 Earlier this year, Rapidan Institute constructed what we believe are the first "Beaver Dam Analogs" — ultra-cheap, beaver dam-like woody debris structures — in the Northern Piedmont with the hope of attracting beaver pups to permanently maintain these structures, which are well away from roads and culverts. Pictured is one log type structure with a pool behind it having a small part blown out due to recent storm events that we will soon return to rebuild. I was part of the crew helping to build these and learned that it's not so easy building a beaver like structure.
It's a humbling experience to see an actual beaver's work recently constructed, on a similarly sized Virginia stream and find that their work holds up better than ours. Note how they reinforce the downstream side of their dams with branch buttresses parallel to stream flow to hold the dam in place. Amazing!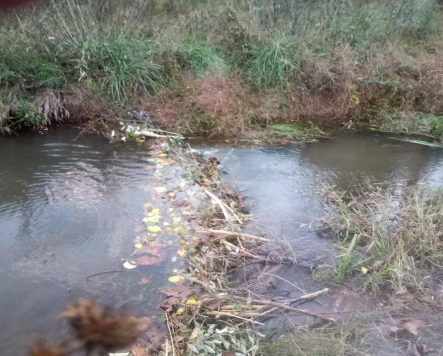 Like so many challenges in life, how we meet them depends on the story we tell ourselves. Are we victims of our past mistakes waiting for big corporations to save us or are we local carbon farmers, pioneers, and entrepreneurs looking for every opportunity to thrive as we preserve our lands? Much of humanity's response, thus far, to our climate challenge is an attempt to influence the rational mind. But we know that myth, symbols, and stories can be a much greater motivator. Mythologist and storyteller Martin Shaw talks of how, as we come out of COVID, many will hunger for opportunities to "trouble our souls into conversation."
We are awakening to humanity's greatest struggle. My own view is that it cannot be solved exclusively with technology. We will not enjoin others to our cause with facts alone. We must extract the stories and build the myths that will move us. We can begin to quietly whisper to ourselves the notion, that our own actions can be part of an uplifting new story even though it feels so bold as to be absurdly impossible.
Can we trouble our souls to forge a response through regenerative land management? Can we tend our plant and soil microbe communities to coax more biodiversity from our landscape? We can, right now, and at the Center we are ready to help you. We are ready to unite with you at your homes, estates, and farms to position you not to be just from "a place" but as Shaw says, "of a place", the place we call Virginia.
Happy Holidays,
Michael Collins
Executive Director